Our retail store sells only natural, less-processed foods and treats, including homemade and frozen raw diets for dogs and cats.  We also carry supplies and food for your furry friends.  We offer a variety of toys, chews, Lupine collars & leashes, and natural grooming supplies.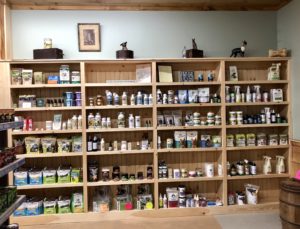 Some of the Food Brands We Carry:
DRY KIBBLE:  Blue Buffalo – Dave's – Fromm – Fussie Cat – Merrick – Natural Balance – Natural Planet – Orijen – Pure Vita – Taste of the Wild – Tuffy's Nutri Source – Weruva – Zignature
FROZEN RAW DIETS:  Aunt Jeni's – Bravo Balance – Primal – OC Raw – Small Batch – Stella & Chewy's – Vermont Raw
DEHYDRATED & FREEZE-DRIED RAW:  Honest Kitchen – OC Raw – Sojo's – Stella & Chewy's
What is the criteria to be considered a "premium" dog food ?
We look for foods that contain a lot of high-quality animal proteins.
We reject any food containing meat by-products or poultry by-products.
We reject foods containing fat or protein not identified by species.
We look for whole grains and vegetables.
We eliminate all foods with artificial colors, flavors or preservatives.
We eliminate all foods with added sweeteners.
We look for products containing organic ingredients.